The Ivritalk team consists of qualified Hebrew teachers who are all native speakers of Hebrew. This is a crucial feature for Hebrew learners, as alongside with the need to learn proper normative Hebrew many learners (especially the ones residing in Israel) face a significant difficulty the bridge the differences between written and spoken Israeli Hebrew.
All of our teachers come with massive experience in teaching Hebrew - from military schools for soldiers who are Olim in Israel, through Ulpanim and to teaching Hebrew in various institutions and locations around the globe. Their background are somewhat different, but they all met Hebrew learners in the different stages of their journey to acquire the language, and they are all very much aware of the challenges that the learners face in this process.
The Ivritalk team follows a specific teaching method that was developed in out company. This is an important point, as our students get to train in one-on-one conversations with various teachers. We strongly believe that the exposure to several teachers is important for building the students' confidence. In real life we speak with a variety of people, each one has his/her own unique style of expressing him/herself. When it comes to Hebrew, it's even more important to be exposed to a variety of native speakers, as the language is gender-oriented and so communicating with just one teacher of one gender would prevent the students from listening to and speaking with a member of the other gender. 
All of the Ivritalk teachers believe in creating the right atmosphere that would allowed their students to feel free to speak Hebrew. The one-on-one conversations can evolve around any subject that is relevant for the students, and the teachers' role in the conversation is to encourage and guide the students to apply their knowledge of the language into a conversation that is much like a real-life conversation.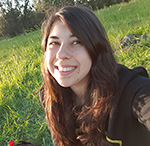 Jessica
My name is Jessica, and I have been teaching Hebrew for Ivritalk for the past three years.
I grew up in Kibbutz Nir Yitzhak in the south of Israel, and I graduated from school in the city of Beer Sheva, "Capital of the Negev".
I served in the Southern Command of the IDF as a Hebrew teach in military ulpanim.
In Ivritalk I get to teach students from all over the world.
I wish all of my students success and pleasant studying.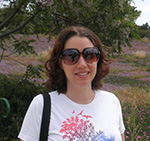 Shira
My name is Shira, and I started working as a Hebrew teacher for Ivritalk in 2011.
I was raised and educated in the city of Holon, and from a young age I had a great passion for languages. I have a BA in General Linguistics and in Hebrew Language, and an MA in Hebrew Language from the Tel Aviv University.
In addition, I gained teaching diplomas in Hebrew and English for high school and language editing.
After graduating I went to teach Modern Hebrew for one year in the Adam Mickiewicz University in Poznan, Poland.
This experience made me realize that I want to continue and teach Hebrew to adults, people who study out of will and interest (and not because they are forced to).
I wish all my students that they will always study with joy. Because Hebrew is something that you study out of love and happiness.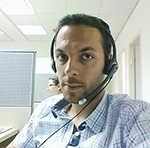 Shay
My name is Shay, and I am a Hebrew teacher for Ivritalk since 2012.
I was raised and educated in the city of Bat-Yam that lies on Israel's Mediterranean Sea Coast.
I love to study languages, so I enrolled to the Department of Semitic Languages in the Tel Aviv University. At the same time I also worked hard to acquire the French language.
When I joined Ivritalk, a special opportunity occurred to me – to teach Hebrew while using my knowledge in English and French. This way I get to use three languages at work every day, and to enjoy the richness of each one of them. Since I speak French, I teach many students who live in French speaking countries. This way I teach them Hebrew and at the same time I am exposed to the life, the customs and the traditions in these countries. I feel that my work contributes to the students, and I am also contributed by it because it opens a window to the world for me.